The retail Drop Safes offer fire and burglary protection for an overnight application. The safes provide security in a controlled environment in any situation where cash is required to be deposited and stored prior to cash collection.
70mm solid high tensile steel door 80mm body overall
Three solid plated 35mm locking bolts
Spring loaded tempered glass re-locker
Sturdy ball-bearing exterior hinges
2 High security keylocks on door, and 1 keylock on deposit drawer
Combination locks as an optional extra
Bolt down hole allowed for on smaller models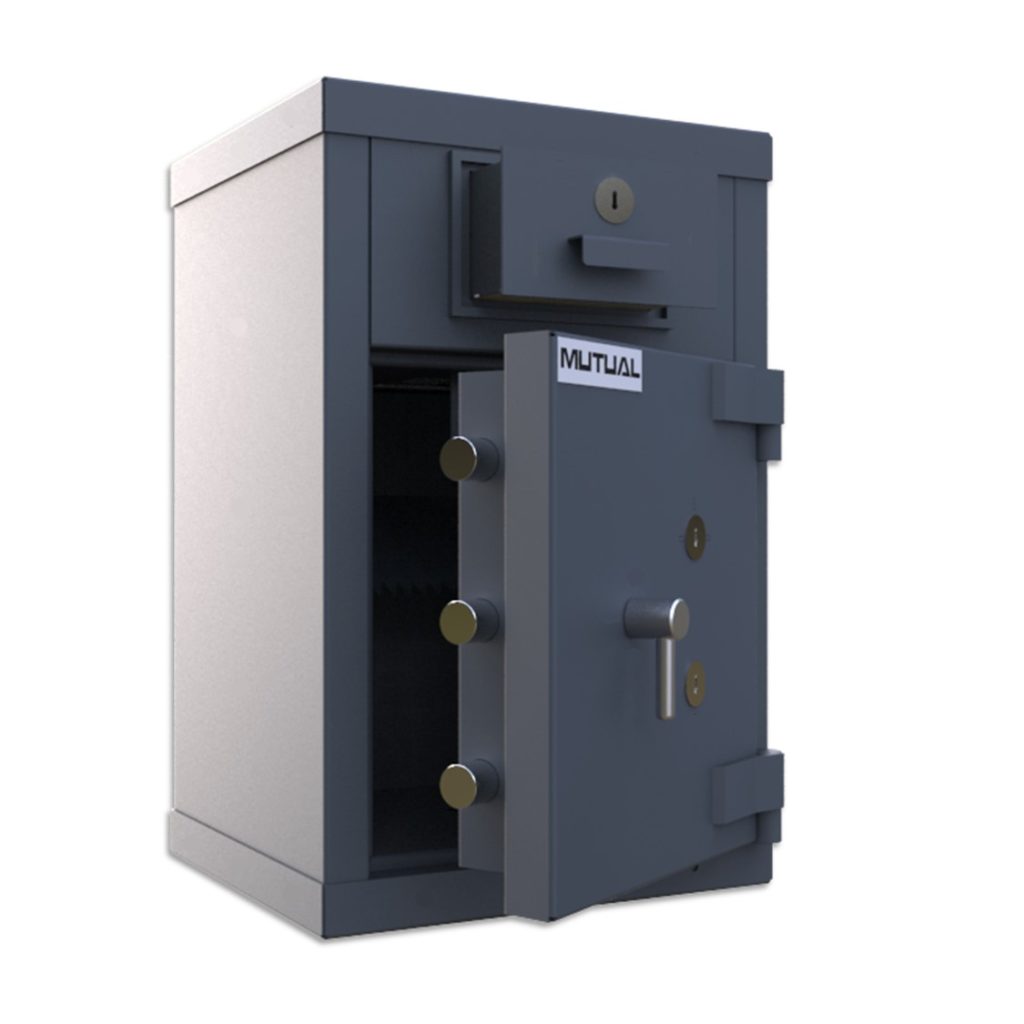 Construction & Protection
The retail Drop Safes meet the SABS (Cat 2 ADM, Cat 3, 4 & 5) requirements against various forms of burglary attack.
The sophisticated methods of lock picking or pin point drilling are negated by the use of high security locks, hard plates, highly responsive re-locking devices.
Additional protection is offered against forceful attack methods. These methods include cold chisels, drilling machines, various hand tools as well as high speed grinders. The deposit drawer also has adequate protection against similar forms of attack.
In addition, protection against the illegal removal of deposits through the drawer is provided through a system of baffle & anti-fish plates.
Alternative locking is also available.
Top Deposit Drop Safes
Roll Top Drop Safes
Small Drop Safes
Dual Protector
The design and development logic behind this unit is to provide security in controlled environments. This safe can be used in places such as
retail, banking, financial organisations, hotels and casinos as well as all offices and stores.
Construction
The Dual Protector range is manufactured using high technology barrier materials.  This is to ensure the strongest protection against attempted burglary.
Protection
With many years of experience and as a trusted name in the security market place, Mutual has constructed and designed its range of safes, to accommodate different volumes of secure storage capacity, as per the customers requirements
The Mutual Dual Protector CAT2 ADM, CAT3, 4 & 5 safes, serves as a multi-functional safe. It has an overnight insurance protection of R50 000, R100 000, R200 000 and up to R300 000 respectively
The SABS approved top compartment contains a high security deposit drawer. There is also extra space for secure storage overnight. The larger SABS approved bottom compartment, secures the day's deposits from the deposit drawer in the top compartment. The Mutual Dual Protector Safe is effectively 2 safes in 1
The door locks are protected by dual plates of tempered glass. This will activate 2 randomly placed re locking devices in the event of an attack on the safe. The highest quality in protection